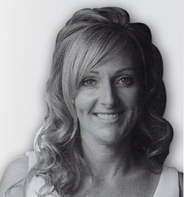 Renelle Laliberté
Interior decorator & owner of Renelle Design, Renelle Laliberte is a passionate design professional who loves to transform and embellish. From people's homes, to individual rooms, to furniture, window treatment or simple accessories, Renelle brings style to everything she touches. She works on a multitude of projects ranging from condos to townhomes to inns & B&B's and utilizes a variety of styles.
Her philosophy is service & care…"At Renelle Design, we provide a direction for people to express their inspiration and we execute with care, dedication and attention that honors our client's trust".
From a background in fashion, business management and construction, Renelle's passion for design started 20 years ago when she was the sales director of condo towers in Montreal where she honed her skills on construction, building codes and designs. Her past success has revolved around her flair and her natural ability to evoke beauty. Working as a design professional was a natural evolution as it has been her passion for many years.

Testimonials
Renelle has been fabulous to work with on all levels! Her ability to read me was akin to her having a sixth sense and she delivered exactly what I had dreamed of. Throughout our projects together she has demonstrated professionalism, empathy, patience and unbelievable expertise! Her creative ability allows her to be mindful of budget while still delivering exquisite designs! Thank you!

Cynthia Bilodeau,PhD (Ed) Professeure Adjointe| Assistant professor École de Counselling, de Psychothérapie et de Spiritualité
School of Counselling, Psychotherapy and Spirituality Université Saint-Paul | St-Paul University
We have used Renelle on 3 significant projects, including a new condo that we had to downsize to. This was very challenging and she delivered during this stressful time. I have found her to be very creative and effective. We were looking for a shabby chic look that is contemporary and warm with a European flair. She has delivered every time. She is very reliable, professional and strives to please. On top of all of that you can tell she LOVES her work and is very passionate.

Renelle is also easy to work with and will try to make things right if you are not pleased. This is very important when it comes to a designer. She is also very conscious of budget. Highly recommend!

Cindy Crean – Managing Director at Sun Life Global Investments
Le hasard nous a apporté à travailler ensemble mais les résultats étaient bien calculés! Renelle nous a permis de transformer notre projet dans une simple maison de location pour travailleurs à une très belle maison qui a maintenant une personnalité et une histoire à raconter. Ses idées sont excellentes et elle est surtout prête à respecter nos budgets. Elle est à l'écoute à nos besoins et toujours prête à trouver des nouvelles solutions. Merci beaucoup pour tout ton travail, nous en sommes bien reconnaissants.

Renelle has done an incredible work to transform this simple project into a work of art. She was able to coach us along the way so we understood where she was going and how we could bring our own ideas in the planning. She is passionate about her work and it's a pleasure working with her.

Nicole Guertin – Propriétaire, Les Suites des Presidents & La Maison des Prospecteurs
It was a pleasure working with Renelle. She is very attentive of your needs, she provided me with more than just one option, and ultimately made my vision a reality. She is very detail oriented, and her creativity is unbelievable. I would most definitely recommend Renelle without any hesitation.

Bernard Thibault – owner of Bernard Thibault Floral Artistry
Elle a fait un travail remarquable malgré le petit budget que l'on avait. Elle est professionnelle et disponible, je la recommande à 100%.

Vickie Longpré – Human Resources Coordinator at National Bank of Canada
Renelle…. I love my house! It is all a bit of blur now having started school at the same time that all this was done. I remember thinking I needed to call you and tell you how much your advice was so helpful. I have sung your praises with many since… The colour that you suggested for the living room, dining room (all over) seemed so light, so white but I went with it and it is beautiful..stunning….at first I thought it was a tad yellow but now it is beautifully warm and just what I wanted. Without your advice I would have gone darker and had the same light problem, but you were right and I am so happy that I sought your advice. First of all your confirmation that I should paint the wood paint made me feel less guilty and secondly, your suggestion that I paint the risers was so correct. Even the poor painters agreed….I enjoyed our session and would love to have you come back and see my house and make more suggestions….

Katherine
In the time she spent as Regional Manager at Bikini Bay, her level of work was always at the highest possible standard. Renelle excelled at communicating with her staff, at merchandising and visually displaying all the stores in the company. Her level of professionalism, integrity and work ethic are second to none. Under her leadership, the business thrived, and I had a huge weight lifted off my shoulders. I would like to recommend and endorse Renelle, as I know she gives every project her all, and anybody would be lucky to have her work with you.

Bo Kisliuk – President at Bikini Bay